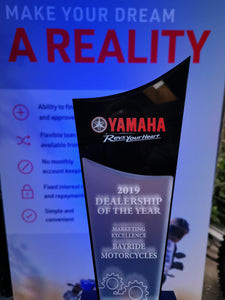 BAYRIDE RECEIVES DEALER AWARD
DEALERSHIP OF THE YEAR!
Yamaha Motor New Zealand has awarded Bayride Motorcycles with 2019 Dealership Of The Year Award for Marketing Excellence.
At the recent Yamaha Partner Conference , Richard Shaw,  National Sales Manager, presented the Dealer Of The Year awards. Amongst those awarded was Bayride Motorcycles in the special Marketing Excellence Category. 
Mr Shaw announced "The recipient of this award has targeted both horizontal and vertical media in their marketing plan and strategy. They have had a proactive approach to sponsorship in key areas, not just with events, but product ambassadors. This Dealer has been able to achieve a great balance between traditional (print and radio) and digital platforms. There is a long list that we could cover on fantastic initiatives this Dealer has taken the lead with, but in the interest of time, the winner of the Marketing Excellence award goes to……Bayride Motorcycles" - END
Damian, Dealer Principle said of the award "Receiving Marketing Excellence really vindicates all the work we put into the entire business. Not just the hard sell, but getting involved in motorcycling at all levels. You'll find us all over the place - at events, trade shows, in the newspaper, on radio, the internet, social media, hosting rides, it's not quite 24/7 but we try! Yamaha New Zealand give us lots of good reasons to market their product, great motorcycles combined with enthusiasm is a winner!"
Damian Fleming, Bayride Motorcycles with Richard Shaw, Yamaha Motors NZ.
Yamaha Motor NZ General Manager Alan Petrie with Damian.
GO BAYRIDE!
---